Making a map, part 4

September 2019

Today begins by marking out all those ups and downs with the elevation profile line. I'm going to come back to some more detail on this later, just getting it in position for now.




Then it's onto some course marking, with little circles for aid stations and villages, and triangles for the peaks. These are done with a handy stencil for consistency .



Labels come next, for all the locations and peaks. Tim gave me a list of the key ones that were memorable for him, and later I'll be adding some fun little illustrations along the route specific to these.




Not forgetting the most key ▴ of them all:




Each aspect of this kind of commission has its own challenges, and I find the painting starts to take its toll on my neck after a while 🎻, hence switching back and forth over the past few days between the linework and the ink wash parts of the map.
Today I make a start on the Mont Blanc panorama based on Tim's photo from Arete du Mont Favre. Same technique as with the hillshading, using various dilutions of black ink, to create a landscape to sit at the base of the artwork.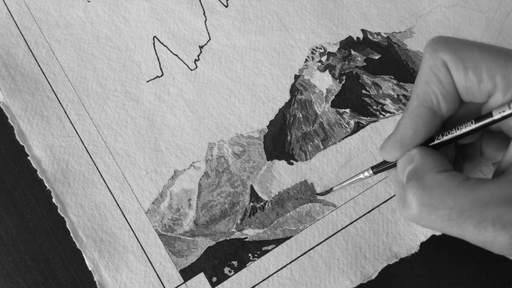 Coming along nicely now. It's kept safe undercover overnight, under a sheet of glassine paper, safe from wandering cats ︎




Though I'm not sure there's much danger of that...




All being well, should get at least close to completion tomorrow.


---